Looking for Auto Air Conditioning Repair & Recharge Service in Elizabeth Pa?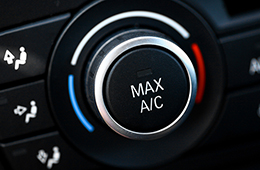 Air conditioning in your car this summer is a must! There's few things as frustrating as getting into your hot car on a 90+ degree day and finding out your A/C doesn't work. When it comes to air conditioning repair, you don't have time for this or the expense that's sure to follow. So what could it be? Most car AC systems stop working due to a refrigerant or Freon charge problem. It could be that your cars air conditioning system has a leak and all or some of the gas has leaked out. Whether it's an A/C condenser, A/C compressor, evaporator, hose or gasket seal that is leaking, if you want it to be cold; there can't be any leaks in your system.
Think of your car A/C just like your refrigerator at home; same components but your refrigerator leads a nice comfortable life nestled into its spot in the kitchen. Never hitting any potholes or getting hit by flying road debris that can cause damage to sensitive components like your AC condenser.
A/C Refrigerant Recharge
One of the very first steps we'll perform in the diagnosis of your vehicles faulty air conditioner is to hook up our pressure gauges to see how well it's operating. If your cars AC system is found to be low on freon, we'll need to first add some dye and new refrigerant in order to get the system running to find the leak. The ultraviolet dye will circulate through the air conditioning system and be forced out wherever there is a leak. Using a black light, we should be able to actually see the leak as it's happening. Or if the leak is really small, you may need to drive it a while using the air conditioning for the leak to show itself. We can then retest the system with our dye light and also a refrigerant gas detector for those hidden areas that aren't visible like in your dash board.
A/C Diagnosis & Repair
Another possibility is an electrical malfunction like a fuse, wiring issue or a control component has stopped working. In this case, we need to first confirm that the air conditioning system is fully charged with Freon before beginning to diagnose an electrical problem.
Electrical diagnosis can be time consuming to find the problem, and the repair cost will then be determined by what has failed. This is why it's so important to have experienced ASE Certified mechanics working on your cars A/C system. A mechanic working on auto air conditioning systems needs to be well trained in heating and refrigeration as well as electrical diagnosis and repairs. It's not uncommon to find both an electrical problem and an A/C recharge problem on the same vehicle. Often one of these can cause the other to happen if the system is not checked every year as maintenance.

Cabin Air Filter Replacement
Another minor and often overlooked component to watch out for is your cabin air filter. This filter is responsible for trapping very small dust and pollen particles from getting into your vehicle and plugging your evaporator inside your dash, as well as causing breathing problems for you and your passengers. If this filter gets too clogged, your air conditioner won't be able to breathe properly and the result will be very little cold air getting into your cars interior. This filter should be changed at the same time as your engine air filter, between 12,000 and 20,000 miles depending on your driving conditions.
Since the cabin air filter is hard to see sometimes, a good rule of thumb is to just have us change it every time your car reaches another 20,000 miles at most.
There's no need to drive all the way to the dealership for Auto Air Conditioning Recharge Repair Service in Elizabeth Pa and put up with an inconvenient experience and higher prices. Our auto repair shop is serving the greater Elizabeth PA area as well as McKeesport, Forward Twp, Clairton, Jefferson Hills, Bethel Park, Boston Pa, Lincoln, Pleasant Hills, West Mifflin, Glassport, Finleyville and the surrounding communities. Our AC Mechanics are fully certified to handle refrigerant recovery and recycling, and are at the pinnacle of auto service when it comes to training. If your vehicle is in need of air conditioning maintenance or repair, you can trust the professionals at Elizabeth Auto Care to do the job right at a low, competitive price.
So if you need your auto air conditioning repair & recharge service in Elizabeth Pa, stop into Elizabeth Auto Care to talk with one of our friendly and knowledgeable A/C mechanics about your car AC recharge repair service. Or give us a call at (412) 384-7700 and we'll be happy to help you with your concerns.
MAKE AN APPOINTMENT TO HAVE YOUR AIR CONDITIONING TESTED AND SERVICED BEFORE SUMMER COMES: