Trust Elizabeth Auto Care for all of your auto service and auto repair needs
We know how important a safe and reliable vehicle is to you and your family. Elizabeth Auto Care is proud to provide Elizabeth Pa area residents with dependable AAA Approved auto repair services. With over 30 years of experience, Dave Striegel and his wife Lisa take pride in our tradition of great customer service that is backed up with our 2 year 24,000 mile NAPA nationwide Peace of Mind warranty. So you can drive confidently knowing your auto repairs are covered coast to coast by over 14,000 auto repair shops, parts & labor!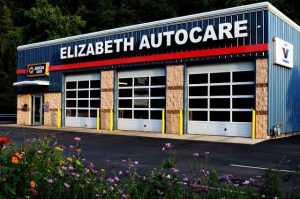 With ASE Certified master mechanics on staff at all times, we have the experience to diagnose even the toughest problems quickly that many new car dealerships struggle with. And the latest tools and diagnostic equipment is always being updated to make sure you get the job done right and your car repairs go smoothly.
Worry Free Auto Repair & Maintenance Service
Whether you need new tires, wheel alignment adjusted, air conditioning fixed or your brakes looked at, we want to be your first choice to take your vehicle in the Elizabeth Pa area. We work on all makes and models with fully licensed, trained & insured mechanics.
No auto repair job is too small or large! You'll appreciate knowing that even common repairs like oil changes and Pennsylvania state inspections are performed by the very same experienced and certified mechanics that will handle your engine and transmission repairs or replacements. We know how important it is to you that all of your car repairs are done right, on time and on budget.
Elizabeth Auto Care can do it all, call or stop by and see why we should be your dealership alternative.
How often should I rotate my tires?
Your tires should be rotated every 6,000 miles or every other oil change to prevent premature wear. With the cost of new tires these days, squeezing out every mile you can helps you stay on budget. When you have your cars state inspections performed at Elizabeth Auto Care, our mechanics will automatically rotate your tires with no extra charge since we always remove all 4 wheels.
Is it really necessary to replace my timing belt at the recommended interval?
Yes! The failure of a timing belt in many cars can result in unnecessary major engine damage. Your cars timing belt makes sure the camshaft and valves on top stay in sync with the pistons on the bottom. When it breaks or slips due to normal wear and tear, the pistons can collide with the valves causing damage to these critical components. It's always cheaper to fix it before it's broken, so a little preventive maintenance will save you many hundreds of dollars. Most manufacturers recommend 60,000 to 90,000 mile intervals, so ask us if your car is equipped with a timing belt early on so you can budget for this affordable maintenance.
What does it mean when my service engine soon or check engine light comes on?
Although your car may seem to run fine, your cars computer or PCM is trying to tell you something when that little light comes on. There are many sensors and computerized components that need to be working properly in order for your computer to manage your vehicle's engine performance and emissions. When one of these components fails or wears to the point where the PCM can no longer make the needed adjustments, the check engine light or service engine soon lamp is illuminated to alert the driver about the need for service. You should drop by as soon as possible to have us check it out for you. If your light is flashing, it means that serious damage could occur to other systems if you continue driving. In that case, we recommend you stop driving, and come in right away before any further damage and expense happens.
When should I get my oil changed?
In the Elizabeth Pa area, experience has shown us that you should continue to get your oil changed every 3 months or 3,000 miles when using conventional or semi synthetic motor oil. Full synthetic engine oil can last longer, extending those intervals to 5,000 miles. Following the recommendations of your owner's manual or oil change lamp on the dashboard that may indicate you can go longer is what is causing serious engine damage due to sludge build up. Those extended intervals are fine for more temperate regions with different driving conditions like out west or down south. But here in the Pittsburgh Pa region with our temperature swings, short trips and stop & go traffic we're finding our clients can get many more trouble free miles from their engines by following simple 3,000 mile oil change intervals.
How long should my battery last?
The average age of battery failure in the Elizabeth Pa area is 3 ½ to 4 years. This is just the average and many fail earlier and some even later. So to make sure you don't get surprised by a sudden no start condition, we check your battery every time you come in for any auto repairs or maintenance at Elizabeth Auto Care. Even if your battery is testing OK, we'll still recommend replacing it around 4 years old just to make sure your vehicle starts and always get where you're going; nobody likes the emergency caused by a dead battery!
Does Transmission Fluid Need Flushed?
If you have an automatic transmission, the fluid should be changed at regular intervals just like your engine oil – except not quite as often!
We recommend 30,000 mile transmission flush intervals to keep your valuable tranny running smooth and reliable for hundreds of thousands of miles. And when you have this service performed by our expert mechanics, Valvoline will provide a lifetime protection plan that can cover up to $4,000 in repairs if you should experience a failure. Call or stop in today to find out how we can extend the life of your valuable transmission.
When Should I Change My Antifreeze?
Most manufacturers recommend a mileage based interval when it comes to flushing your engine coolant or antifreeze. Some like 80,000 miles all the way up to 150,000 mile intervals. But we've found here in the Pittsburgh area that those mileage intervals just don't work very well for our customers and that's why we recommend 4-5 year flush intervals.
Antifreeze is always circulating when your engine is running, cooling the engine block and heads while providing hot water to your heater core to warm you and your passengers. When your engine was 'cast' from either aluminum or steel, they used sand to create the unique shapes inside the coolant passages, and unfortunately some of this sand gets left behind in the process.
It's this sand that eventually can turn to mud inside your heater core and radiator passages that will cause some problems. Since these fins inside the heater core and radiator are so tiny, they tend to collect this debris and plug up over time not just mileage. That is one of the main reasons we strongly recommend changing or flushing your cooling system system every 4-5 years rather than waiting for a certain mileage.
What should I do if my car starts to overheat?
Stop driving right away! Pull over and call for a tow truck – this is a very serious auto repair problem. If your car overheats for too long, you can cause major damage to your engine. Also, do not attempt to check the fluid level in the radiator by opening the cap; the hot fluid can cause severe burns to your body. Play it safe, call us or your towing service and bring your car in for a thorough inspection to find out what caused the overheat and if any further damage has occurred.
When should I change my spark plugs?
For maximum fuel economy and peak engine performance, your spark plugs should be replaced every 60,000 miles, even if your vehicle is equipped with 100,000-mile platinum or iridium tipped spark plugs. The reason we recommend 60K miles is even though they may last longer, worn plugs cause other parts of your ignition system to fail prematurely and cost you more money than it should have with auto repair. In addition, we've found that many spark plugs don't want to come out if left in too long. Since they're made out of steel and most engines are now made from aluminum, the threads corrode and can cause damage as they are removed.
When you're in Elizabeth Pa and looking for quality auto repair near me, stop in or give us a call so we can customize a service plan that fits your needs and your budget. You'll find the pinnacle auto service right here in your neighborhood at Elizabeth Auto Care!
Call, Text or Email us to schedule your appointment or ask any questions you may have
(412) 384-7700 Voice
(412) 879-0171 Text
Or CLICK HERE to schedule your appointment on line