Is your Check Engine Light or Service Engine Soon Light on?
The check engine light or service engine soon lamp is illuminated to alert the driver about the need for service. Although your car may seem to run fine now, your cars computer or Power Train Control Module (PCM) is trying to tell you something when that little light comes on. There are many sensors and computerized components that need to be working properly in order for your computer to manage your vehicle's engine performance and emissions. When one of these components fails, or wears to the point where the PCM can no longer make the needed adjustments, that check engine light may illuminate, every time you start and operate your car.
Stop in to Elizabeth AutoCare Monday – Friday from 8am until 5:30pm for your Free Check Engine Light Code Scan on most model year 1996 or newer vehicles!

If your check engine light is on, you should drop by Elizabeth Auto Care as soon as possible to have us check it out for you. If your engine light is flashing, it means that serious damage could occur to electrical or mechanical systems if you continue driving. In that case, we recommend you stop driving, and come in right away before any further damage and expense happens.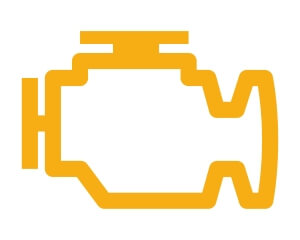 When you stop in to have your check engine light looked at, one of our ASE Certified Master Mechanics will bring a computer scanner out to the parking lot right away to find out which trouble codes are stored in your computers memory. Just by looking at the codes, we'll be able to tell you whether it's safe to drive home without causing any significant damage. And if your problem may be covered for free under any remaining car dealership warranties.
Why We Offer This Free Service
We do this for free to give you peace of mind; knowing if you need to stop what you're doing, or if you can schedule your car in for diagnosis at a more convenient time for you. Sometimes the problem could be as simple as a loose gas cap, or more serious like an engine misfire that could cause more damage if left untreated. The point is, you just never know until you have it looked at. We just want you to have as much information as soon as possible so you can make the decision that fits your budget and situation.
What do the stored engine trouble codes mean?
Each system on your vehicle is assigned a series of code numbers and letters that help us determine where your computer saw a problem that caused it to turn the light on. Keep in mind, these codes don't tell us exactly what failed, only what system the computer recognized a problem with.
Think of it like this; if you felt sick and your thermometer was reading 101 degrees, that only alerts you to the fact that you have a fever. Your fever could be from an infection, a virus or some other internal cause that would require more testing by your doctor to determine what is wrong with you and how it should be treated.
Well, your engine also has a thermometer and if it was reading too high, your computer would turn on the check engine light to alert you about it. With a cars computer, it can tell our certified, ASE master mechanics exactly what the trouble is, and where to look to further diagnose the issue.

The trouble codes from your check engine light could be related to multiple engine and transmission control systems such as:
Air Fuel Metering
Fuel Injector Malfunctions
Ignition System Misfires
Emission Controls
Vehicle Speed Control & Idle Control
Computer Output Controls
Transmission controls
Plus many more engine codes. And the numbers of codes for each of these systems can add up to over a thousand possibilities! So, understanding that the first place to start is to retrieve the stored codes, and then we can develop a strategy to properly diagnose the problem to save time and expense.
Check Engine Light Equipment For Your Make and Model
It's important to have the right equipment to not only access your computers codes, but to also work with your PCM to find the relevant data for the affected system. A vehicle test drive with our computer scanners plugged in will show us what your cars computer is seeing when problems are occurring. Once we know the engine trouble codes, we can get to the root cause and prescribe the correct repair.
The certified mechanics at Elizabeth Auto Care are highly trained and very experienced when it comes to check engine light diagnosis in Elizabeth Pa.
[button type="primary" link="https://elizabethautocare.com/make-an-appointment"]SCHEDULE APPOINTMENT[/button]
Areas Served: Elizabeth Pa | Jefferson Hills Pa | Clairton Pa | McKeesport Pa | Forward Township Pa | Glassport Pa | Lincoln Boro Pa | Boston Pa | Finleyville Pa | West Mifflin Pa | Pleasant Hills Pa | Bethel Park Pa | South Hills Pittsburgh Pa and surrounding areas within these zip codes: 15037, 15025, 15135, 15132, 15131, 15045, 15332, 15236, 15122
A wiki about the history of the check engine light can be found on this wiki site: https://en.wikipedia.org/wiki/Check_engine_light