Pa Vehicle Inspection Station
Our certified mechanics are also approved for Pa state safety vehicle inspections, repairs as well as emissions repairs and waiver certified. This means that you can have all of your Pa safety & emission inspection testing and service repairs done in one convenient location!
Certified Pennsylvania State Inspection Station Elizabeth Pa State Safety & Emissions Inspections
At Elizabeth Auto Care, we provide Safety Inspections and Emissions testing for both types of emissions systems – 4 gas analyzer for the 2 speed idle test that older cars and some trucks require, and the OBDII emissions test that most vehicles built after 1996 will need annually.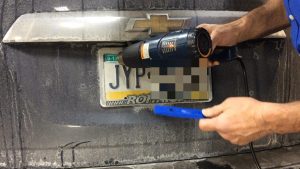 Is Your Pa Registration License Plate Sticker Expired?
Since 2016, the Commonwealth of Pennsylvania stopped issuing license plate stickers to match your Inspection Stickers. There's been a lot of confusion about whether or not to remove these expired stickers so lets get that cleared up right here.
You can leave them on your plate if you'd like and as long as you stay in Pa, nothing will happen. But if you travel outside of the commonwealth, a police officer from another state may see an expired registration sticker on your plate and pull you over to investigate. Even though PennDot issued bulletins to neighboring states telling their police officers about the change, drivers from Pa are getting pulled over and even receiving tickets because of it.
Elizabeth Auto Care will remove these expired stickers for you free of charge when you come in for any service, all you have to do is ask us!
New To Pennsylvania Safety and Emissions Inspections?
If you're just moving into the state and need to get your vehicle registered and inspected, here's a few things you'll need to know, and to bring with you to your vehicle inspection:
Before you can get your vehicle registered, the notary will need to have a VIN or Vehicle Identification Number tracing. This needs to be done by a licensed state inspection mechanic, so feel free to call Elizabeth Auto Care to get your VIN tracing done fast and free by one of our PennDOT certified mechanics. Just bring the form with you that the notary or AAA provides with the vehicle you wish to register during normal business hours.
In the state of Pennsylvania, every car and light duty truck will need to have Pennsylvania safety vehicle inspections and most gasoline powered vehicles will need an emissions inspection. They can be performed at the same time and the vehicle must pass the emissions test before a safety inspection stickler can be issued. You are entitled to new windshield stickers if it passes both of the tests, and the expiration will be for at least 12 months. Every year your vehicle must pass both tests, and you can have your inspections done up to 90 days in advance for your convenience.
Be sure to bring your current and valid Pa registration card along with your insurance card with you at the time of inspection. Both are required to be present in order for the inspection stickers to be issued.
If your vehicle is registered in some counties like Allegheny county, the emissions test will be slightly more involved than in other counties like Butler or Westmoreland. But don't worry, Elizabeth Auto Care has all the licensing and equipment to perform either of those tests for you.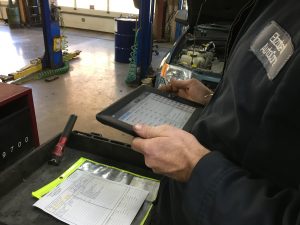 What if my car fails the Pa safety inspection but passes the emission inspection?
A new emissions inspection sticker will be issued and affixed to your windshield. You have the right to perform your own repairs to pass the safety inspection, or you can have us do them for you – it's your choice. If you elect to fix the car yourself, you can bring the vehicle back to us to inspect your repairs to verify they will pass and we will issue a sticker if everything is up to state inspection standards.
As long as the vehicle is brought back within 5 business days, we won't need to perform the entire inspection again and there may be a charge to reinspect depending on what repairs we need to verify. If it's after the 5 day grace period, the entire safety inspection will need to be performed again, with the original fee charged as well.
What if my car fails the Pa emissions inspection but passes the safety vehicle inspection?
In this case, no stickers will be issued; your car must pass the emissions test before a state safety insp sticker can be issued. You are entitled to perform your own emissions repairs, and one free retest by the original inspection station is included within 30 days of initial failure. If the emissions related repairs are more than $150, you may elect to receive an emissions waiver that will last for one year. Not all Pa emissions sites are licensed to deliver waivers, but Elizabeth Auto Care is. A waiver can only be issued if all required emissions related components are present on the vehicle at the time of testing.
In addition to performing Pa State Vehicle Inspections and Emissions Inspection, Elizabeth Auto Care also has a host of other inspections as well.
We Provide Courtesy Vehicle Inspections:
This is a sampling of the Elizabeth Auto Care 29 point inspection and is performed every time you bring your vehicle in for service:
Road test by Certified Technician
External vehicle lighting
Basic fluid level and condition
Tire visual condition
Battery condition test
Peace of Mind Vehicle Inspection:
Road test by Certified Technician
External vehicle lighting
Complete fluids evaluation
Tire condition inspection with measurements and rotation
Battery condition test with alternator output
Brake inspection and condition report
Belt and hose inspection
Air filter inspection
Cooling system inspection
Steering/suspension inspection
Under vehicle inspection including visual leaks present
Comprehensive Vehicle Inspection:
If you plan on buying or selling a car and want to be sure the vehicle is functioning as it should before the sale goes through, bring the car in to Elizabeth Auto Care and for this 76 point vehicle inspection. It includes all of the Peace of Mind Inspection above plus the following:
Heating/Air conditioning performance test
Computer scans of all on-board systems and stored trouble codes
Engine and transmission operation and control
So if you're looking for an Inspection Station near me in Elizabeth, Pa you can Call, Text or Email us to schedule your state inspection appointment or ask any questions you may have about Pennsylvania state vehicle inspections: (412) 384-7700 Voice OR (412) 879-0171 Text
[button type="primary" link="https://elizabethautocare.com/make-an-appointment"]SCHEDULE APPOINTMENT[/button]
Areas Served: Elizabeth Pa | Jefferson Hills Pa | Clairton Pa | McKeesport Pa | Forward Township Pa | Glassport Pa | Lincoln Boro Pa | Boston Pa | Finleyville Pa | West Mifflin Pa | Pleasant Hills Pa | Bethel Park Pa | South Hills Pittsburgh Pa and surrounding areas within these zip codes: 15037, 15025, 15135, 15132, 15131, 15045, 15332, 15236, 15122
If you'd like to read or verify state vehicle inspections policy and procedure, this is the PA State Inspections PDF