NAPA AUTOCARE PEACE OF MIND NATIONWIDE LIMITED REPAIR WARRANTY 24 MONTHS / 24,000 MILES
A nationwide warranty is peace of mind when considering how much car repairs can cost these days. It makes sense to choose an auto repair shop that backs up it's services with an awesome warranty, right?
Parts and Labor on Qualifying Repairs and Services for 24 Months/24,000 Miles – Nation Wide
Since Elizabeth Auto Care is part of the NAPA Autocare network, we can give you the peace of mind that only a Nation Wide 2 year/24,000 mile warranty on both parts and labor has to offer. You won't see that kind of protection from a local car dealer!
Getting your car repairs done can be stressful enough, now you have one less worry by having your vehicles serviced by our ASE Certified Master Mechanics.
We know there's never a good time to have a problem on the road, but the reality is it happens.
Elizabeth Autocare wants to make sure that if you ever have a problem with one of our qualifying repairs it's covered coast to coast.
Whether you're on a business trip or a Family vacation, there's over 14,000 NAPA Autocare facilities that can get you taken care of quickly – that's more than any other brand or car dealer can offer.
So no matter where your vehicle takes you, if you ever experience a problem with a covered repair, you can count on a NAPA AutoCare Center being nearby.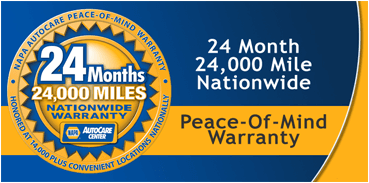 24 Months, 24,000 Miles Nationwide Warranty
It's a written warranty that is honored at more than 14,000 locations nationwide click to download the pdf of all the details: NAPA Warranty Terms and Conditions.
The Benefits to You
When you have your car repairs performed by our expert ASE certified mechanics you'll enjoy these benefits:
Included FREE with your qualifying repair or service work
Covers parts and labor on qualifying repairs and services for 24 months/24,000 miles.
Extend your coverage to 36 months/36,000 miles when you use your NAPA AutoCare EasyPay Credit Card 9 (Click Here to find out more)
Honored nationwide by thousands of NAPA AutoCare Centers, so you're protected even when you're out of the Elizabeth Pa area
Warranty Terms and Conditions
Feel free to review the NAPA AutoCare 24/24 Peace Of Mind® Warranty Terms and Conditions. For warranty service outside a 25 mile radius from Elizabeth Auto Care, contact the NAPA AutoCare Warranty Administrator at 800-452-NAPA (6272). For warranty service inside a 25-mile radius from us, please call us right away and we'll be happy to help
Extend Your Nationwide Warranty
When you make your qualifying repair and services purchase(s) using your NAPA AutoCare EasyPay Credit Card, the warranty is extended to 36 months/36,000 miles!