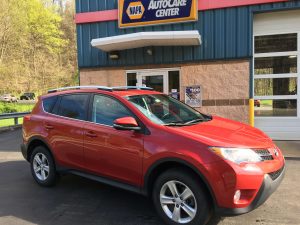 Professional Auto Detailing Service in Elizabeth, Pa
When you're looking for that distinctive shine that comes with a new car, you can trust that Elizabeth Auto Care will treat your valuable vehicle with the same High Level of Quality Care and attention to detail as our Mechanical Services.
With the Best Quality Car Detailing services Pittsburgh has to offer, you can rest assured that your Car, Truck, SUV, or Van will shine like new again – Inside & Out!
Featuring Expert Hand Wash, Wax, Polish, and Compound Services to low impact carpet & upholstery Steam Shampoo, Steam Cleaning and Sanitizing – you have finally found your one stop Auto Detailing Shop.
Give the gift of CLEAN!
Not sure what to get the person that has everything? Chances are they'd really appreciate a 'Spa Day' for their car so they can take it easy and relax themselves. Check out our car detail wash and wax packages. Elizabeth Auto Care Car Clean gifts are easy to buy, easy to give, and have no expiration!
Check out our menu of Detailing Services below, and feel free to call, text or email us with any questions or to schedule your appointment today…
Exterior Car Detail Services
Hand Wash & Wax Paint Sealant
Restore that new car shine – First, we Hand Wash your valuable Car, SUV, Mini-Van, or Truck with a balanced Professional Grade Car Wash solution, and safely remove all bugs and tar from the exterior surfaces and wheel wells. Any embedded dirt and metal particles will be removed using a 'Claying' process from your paint surface to provide a smoother  finish you can feel that dirt just can't stick to.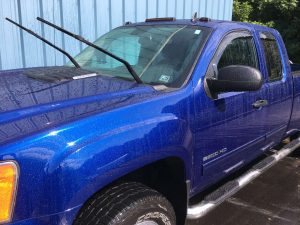 Your tires and wheels will then be completely cleaned and sealed with our Ultra Shine Protect-ant before your paint surfaces are carefully Waxed & Sealed to a Sparkling Shine, and all exterior windows cleaned and polished.
With our high-gloss paint sealing process, water and dirt will fall right off for a more lasting clean. While it is slightly more expensive, this aircraft quality sealer will last longer than conventional waxes; making future car washing easier and less time consuming. When your vehicle is coated with this Nano-Technology sealer you will notice how 'slippery' the paint and windows appear as water just beads right off. Even your windshield wipers will clean better!
Exterior Car Detail Starting At Only $97 (most cars)
[divider type="divider-1″]
Paint Surface Prep (Clay Bar)
To remove embedded dirt, dust, and other contaminants – Using a Clay Wiping Process, we can remove all those rough surfaces that grab and hold dirt on your paint, glass, bumpers and plastic moldings before applying our Wax Process for a longer lasting slippery shine that you can feel.
Starting at $50 (BONUS – We include this Free with EVERY Wax Service)
[divider type="divider-1″]
Interior Detailing Services
Interior Spruce-Up
When you just need a quick clean – We'll start by Vacuuming all your interior carpet and upholstery, Wipe & Seal all dashboard, console and door panels, and clean the interior windows for that fresh Sparkling look!
Starting at $50
[divider type="divider-1″]
Interior Shampoo
For a Deeper Clean – We will vacuum and Pre-Treat light stains and soils on carpet and upholstery surfaces before applying our Steam Cleaning process to Sanitize and Deodorize, leaving behind a fresh clean scent. Followed by a complete Wipe & Seal of all dashboard, console and door panels, and clean the interior windows for that fresh Sparkling look!
Starting at $97
[divider type="divider-1″]
If you need extra care – Our Specially Trained and Experienced Detail Experts can also remove ground in dirt, brake dust, paint over-spray and other pollutants that have become embedded into your paint or wheel surfaces. Along with Machine Polish and Compound Buffing Services that remove light to moderate scratching, swirls and holograms left behind by drive through car washes and other damage.
Any of these services can be added on depending on your needs and vehicles condition:
Exterior
Paint Sealant – Our paint sealant adds an invisible shield to protect your vehicles paint. Paint sealant will usually last about 8-12 months – starting at $50
Pet Hair Removal – We will thoroughly vacuum out and extract all pet hair within your interior – starting at $50
Road Paint Removal – Vehicles today can be subjected to paint over-spray from newly painted bridges, buildings, and roads. If nothing is done, this paint can become embedded into your Cars clear coat becoming difficult to remove – starting at $40
Trim Restoration – Make your worn and faded trim look new again. We can restore all types of plastics, regardless of color – starting at $50
Convertible Top Treatment – During an exterior detail, your vehicle's cloth or vinyl top is first cleaned thoroughly with a special cleansing formula for convertible top and then sealed for added protection against environmental elements – starting at $50
Engine Cleaned & Sealed – Keeping your vehicle's engine clean will actually allow it to run at a cooler temperature. Your engine compartment is first shampooed then it is dressed with a low sheen non silicone engine dressing. We take every precaution including covering any exposed alternator and/or distributor cap, and coating electrical connections to repel water before cleaning; however, we're not responsible for any damage that could occur – starting at $40 (Ask for Details)
Glass Coating – Our Glass treatment will outlast any rain repellant on the market – starting at $50
Headlight Brightening – We will remove all hazing to your headlights with our 6 step "sand & polish" process and restore good night-time visibility – starting at $100
Paint Coating – Opti-Coat is a hard wearing Ceramic coating for superior resistance to scratching (9H) and chemical etching from environmental impacts. It provides permanent protection for all factory paints, and can also be applied to exterior glass, metal and hard plastic surfaces – starting at $225 (Ask for Details)
Interior
Heavy Interior Stains & Soils – This service is for the moderate/heavily stained and soiled interiors – starting at $50 (Ask for Details)
Headliner Cleaning – Carefully steam to quickly deodorize and sanitize your headliner of any stains or soils – starting at $50
Odor Removal – Eco-friendly process utilizing safe cleaners that will quickly and effectively removes pet odors, smoke odors, food odors, germs, bacteria, mold, mildew, stains and other contaminants from the interior – starting at $100
Fabric Protection – Our fabric protection will guard your vehicle from protein spills while forming an invisible shield around fibers so that spills will not leave stains – starting at $50
Our Auto Detailing hours are:
Monday – Friday: Evenings by appointment
Saturday and Sunday: Day or evening by appointment
Plus, we can schedule your Detail appointment on the same day as your vehicles' maintenance or repair services saving you time and trouble!
Elizabeth Auto Care in Elizabeth Pa is within easy driving distance from Baldwin, Pleasant Hills, Jefferson Hills, Clairton, Finleyville, West Elizabeth, McKeesport, Glassport, West Mifflin, Boston, Port Vue, Lincoln, and Forward Township for automotive detailing services that will return your cars exterior finish and interior upholstery to like new condition.
Call, Text or Email us to schedule your appointment or ask any questions you may have
(412) 384-7700 Voice
(412) 879-0171 Text
When you're looking for the best auto detailing the South Hills of Pittsburgh has to offer, look no further than right here in Elizabeth, Pa. Your car will feel so much better when you pamper it with our Detail Car Wash services.