Why Oil Change Every 3,000 Miles
In the Elizabeth Pa area, experience has shown us that you should continue to get your oil change every 3 months or 3,000 miles when using conventional or semi synthetic motor oil. Full synthetic engine oil can last longer, extending those intervals to 5,000 miles. Following the recommendations of your owner's manual or oil change reminder lamp on the dashboard that may indicate you can go longer is what may be causing more serious engine damage due to sludge build up.
Extended intervals are fine for more temperate regions with different driving conditions like out west or down south. But here in the Pittsburgh Pa region with our temperature swings, short trips and stop & go traffic we're finding our clients can get many more trouble free miles from their engines by following simple 3,000-mile oil change intervals.
One of the questions our mechanics are asked all the time by new customers is "When should I get my oil changed?"
Engine Oil Type Differences and What We Use at Elizabeth Auto Care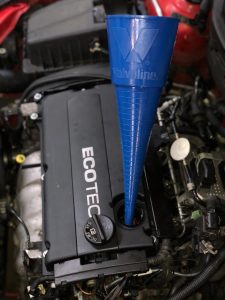 Engine oil comes in three different types with many different viscosity. The three types are: conventional, semi-synthetic, and full synthetic. Since we no longer use or recommend the use of conventional engine oils, they won't be discussed any further.
Most vehicles will now use semi-synthetic motor oil, with a wide variety of viscosity and other vehicle specific designations that are usually found in your owner's manual, on your oil filler cap, or service manuals used by your service facility. When your engine oil is changed, it's important to use only the recommended grade and viscosity to maintain proper engine lubrication and warranty.
You may have noticed that our recommendation of 3,000 miles may not match what your owner's manual, automatic reminder system, or dealer may have told you when it was purchased. Experience has shown us that extending the engine oil change interval beyond 3,000 miles will drastically reduce the amount of service time that engine may provide you. The manufacturer wants you to buy a new vehicle every 3-5 years, but, it's not uncommon for modern engines to run for over 200,000 miles and more without needing a major overhaul IF proper oil change intervals are followed.
Many manufacturers will have an automatic oil life indicator built into the vehicle that will calculate the recommended interval based on your driving habits. Following this reminder system in the Elizabeth Pa area has been shown to cause excessive buildup of carbon and sludge in the internal engine that will eventually restrict the flow of vital oil to key components and cause premature engine failure.
So why would the manufacturer recommend a longer oil change service interval?
The obvious reasoning may lead you to believe that it's in their best interest to extend it so that you are forced to buy a new vehicle more often when the engine begins to show signs of premature wear. But there is another less obvious answer that is the real culprit, and that's called initial cost of ownership.
New car manufacturers have been graded for years by various consumer-reporting agencies that rank them according to the estimated cost of ownership based on anticipated costs such as maintenance and repairs for the first 75,000 miles. By extending their maintenance intervals, they can then show a lower estimated cost of ownership and rank higher in the reports.
It is possible for engine oil change to last as long as their recommendations as far as lubrication goes, but it's the contaminants that are deposited into the oil from your engine that are causing the problems; these come mostly from short trip, stop and go driving. Frequent temperature swings can also cause moisture in the form of condensation to develop, and if your engine is not operated long enough to evaporate and burn off this moisture, impurities will form deposits that can gum up the inside of your engine.
Your engine oil contains detergents that are responsible for keeping the inside of your engine clean. These detergents will become depleted over time and that is when the deposits can restrict oil flow like plaque in your arteries restricts blood flow in your body.
It's these driving conditions that so many of our customers are subjected to that cause us to continue to recommend 3,000 mile intervals for your oil changes in Elizabeth Pa. It's also these conditions that make it unnecessary to use full synthetic engine oil unless your vehicle specifically calls for it. The extra cost associated with the longer life lubricants can't be justified in the Pittsburgh area because it's the contamination of the oil and depletion of detergents that cause it to be less effective, not the lubricating properties.
There is a select class of drivers, however, that can benefit from the superior lubrication that full synthetics can provide. And it's due to their driving habits of prolonged highway speeds, or extended driving times that will allow them to fully benefit from the better oil. One word of caution though – if you are going to use full synthetics, or elect to follow your manufacturers extended oil change intervals, be sure to request a high mileage oil filter at every service.
Many oil filters are only designed to provide adequate performance for 3,000 to 5,000 mile periods and will stop providing protection when the paper filter media has become fully clogged. Even though the filter is no longer able to filter the oil, it will go into a by-pass mode and still allow the oil to flow, but around the internal filter media so the engine will not starve of needed oil.
Elizabeth Auto Care (and many other NAPA certified mechanics) recommends changing engine oil at 3,000 mile intervals and is based on years of mechanical experience and our desire to keep your engine running reliably for as many years as possible. We understand that it's your decision as to which recommendation you decide to follow, but it's our duty to educate you as to why we choose to service our own personal vehicles in this way.
As long as you're one of our customers, we'll continue to place reminder stickers on your windshield and send you reminders via mail and email based on 3,000 mile intervals.
At Elizabeth Auto Care, our auto mechanics are ASE Certified, and have the experience, equipment and skills to quickly and efficiently take care of all your oil changes, air filter changes, fluid services and more. Their experience and knowledge while inspecting your vehicle every 3,000 miles will detect what most oil change jockeys at the quick lube or car dealership may miss.
We take great pride in keeping your family vehicle safe and reliable with proper preventive maintenance, and on the road for many years without a new car payment. Trust in our commitment to help you stay on budget when you're in need of your next oil change in Elizabeth Pa.
Call (412) 384-7700, Text (412) 879-0171 or Email us to schedule your appointment and ask any questions you may have about getting your cars oil changed today.
[button type="primary" link="https://elizabethautocare.com/make-an-appointment"]SCHEDULE APPOINTMENT[/button]
Areas Served: Elizabeth Pa | Jefferson Hills Pa | Clairton Pa | McKeesport Pa | Forward Township Pa | Glassport Pa | Lincoln Boro Pa | Boston Pa | Finleyville Pa | West Mifflin Pa | Pleasant Hills Pa | Bethel Park Pa | South Hills Pittsburgh Pa and surrounding areas within these zip codes:
15037, 15025, 15135, 15132, 15131, 15045, 15332, 15236, 15122