Wildflower Seed Orders Must Be In By April 1st

  
If you'd like to grow a beautiful Wildflower patch like the ones we have in front of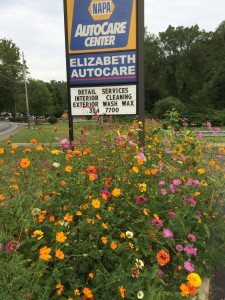 our auto repair shop, then you've come to the right place!
Life is so much better with flowers! That's why every year we offer the same wildflower seed mix that we buy in bulk to our favorite customers, so that they can enjoy having fresh cut flowers all summer long too.
Let's Make Elizabeth Beautiful This Summer…
Not only will they look gorgeous as you'll be the envy of your neighborhood, but all summer long your stunning Wildflower display will attract Hummingbirds (see video below), Butterflies, and even our endangered Honey Bees!
We usually open up the order process to our customers every February & March. This allows us to have all the orders in by April 1st so we can get your Wildflower seeds in your hands for a Mothers Day planting schedule.
All you have to do is measure the area you want to plant (length X width = sq/ft), and order your seeds from the 3 sizes offered on the order form. You can order any amount of any size to suit your needs, and then we'll weigh them out and package them for you just at the right time to plant in our area – Mothers Day.
We'll notify you when the seeds are ready to be picked up at our shop, and you can pay us then.
Here's a list of the flower seeds and what they should look like: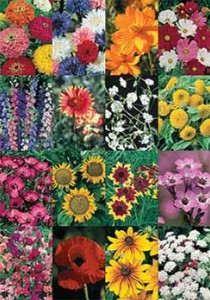 Zinnia-Dahlia Mix…A…22.28%
Cornflower…A…11.23%
Yellow Cosmos…A…8.31%
Cosmos…A…8.31%
Rocket Larkspur…A…7.19%
Indian Blanket…A…7.03%
Baby's Breath…A…6.19%
Teddy Bear Sunflower…A…5.51%
Scarlet Flax…A…5.26%
Sunspot Sunflower…A…4.41%
Lemon Mint…A/P…2.63%
Coreopsis Radiata Mix…A…2.59%
Bird's Eyes…A…2.10%
Mountain Garland…A…2.02%
Red Corn Poppy…A…1.52%
Gloriosa Daisy…A/P…1.46%
Bishop's Flower…A…1.46%
Catchfly…A/P… .48%
You'll also find my handy planting instruction guide below to help you get your beds ready in time. It's not hard, but if you want the same results we get, then follow the directions. Click the link below to open the pdf file…
Watch how mechanics at Elizabeth Auto Care save a dying Hummingbird with this one simple trick