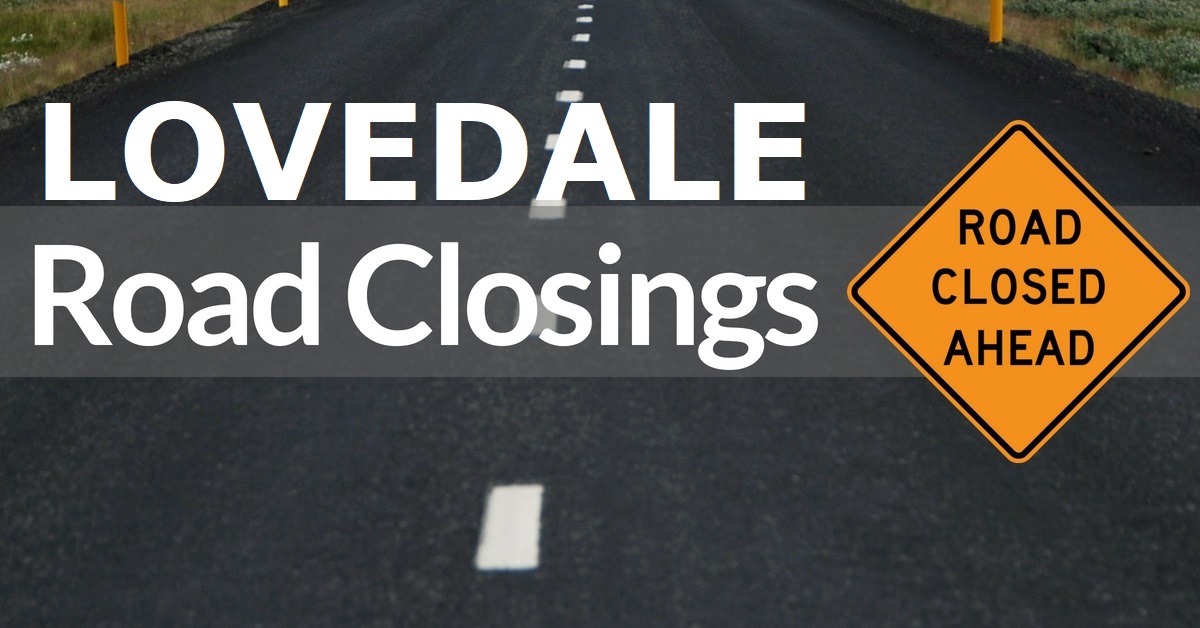 Lovedale Rd Closing in Elizabeth TWP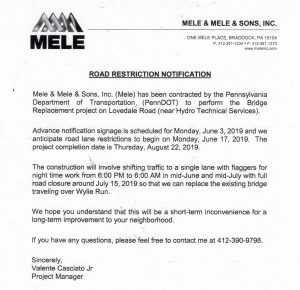 Lovedale Rd is scheduled to close AGAIN for a bridge replacement between Elizabeth Auto Care and Hydro Tech during the Summer of 2019.
As part of Pennsylvania's Rapid Bridge Replacement project, this small bridge will require both lanes to close during the process. The reason for the need to close both lanes is that these projects are utilizing a form of prefab structure that is ordered well before the bridge is to be replaced. They then dig out the old bridge, set the new supports in the ground and move in the new structure where it can then be surfaced to match the existing road.
This process is designed to save time and reduces the problems with closing a main travel artery from Elizabeth Borough to Elizabeth Twp for an undetermined amount of time. The plan is to do this in stages by having one lane road closures during the hours of 6pm to 6am from mid June to mid July. Then have the entire road close down for the actual bridge replacement from mid July to late August if everything goes well, including the weather. Hopefully it will be completed on schedule, just in time for the new school season!
Click on the 'Mele' image above right for the official schedule of events
Elizabeth Auto Care will still be open for Car Repairs and Auto Detailing
We know how inconvenient this road closure will be for our entire community, including our customers. So during this construction period we will offer pick up & delivery service to those that need it, rather than wait for the road to reopen. Below you will find a couple of possible detour routes that can carry you around this construction, and bring you right to our auto repair shop coming from the Giant Eagle side of Lovedale Rd.
Click on the images below to see all the detour information: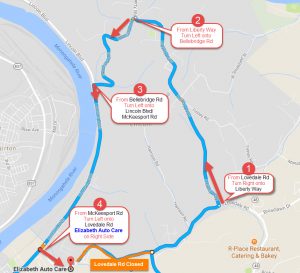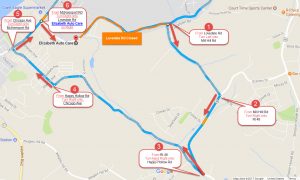 Although this #LovedaleBridge construction project will be a major inconvenience, it needs to get done. Fortunately you will still be able to get to your favorite mechanics in Elizabeth by going around the detour and coming in from the Giant Eagle side of Lovedale Rd. The road will still be open to Elizabeth Auto Care.
We will maintain our regular hours and schedules, along with our Free Loaner Cars so please continue to call or stop in if you need any help with your car repairs Monday thru Friday 8 am – 5:30 pm.
Please 'like' our Elizabeth AutoCare Facebook page to receive up to the minute details on the bridge construction. We'll be updating with pictures and road opening plans so you can be kept in the loop.
Feel free to call our helpful Mechanics at (412) 384-7700 with any questions.